C.07 How to create sustainable and smart real estate
Our contribution to the 3rd industrial revolution
We believe that internet technology and renewable energy are converging to create a powerful "Third Industrial Revolution" which will bring the economic progress we need in
Europe and the world.

Three internets will merge into a new technology infrastructure; the internet of communication, of green energy and of logistics. A platform will exist that will connect everyone and everything. We will share green energy and data in the future, like we create and share information online at the present. Millions of sensors will be connected to these three internets, connecting things to people, in warehouses and other types of real estate and measuring traffic and production. This is the Internet of Things. Individuals, companies, organizations and governments will be able to reduce costs and increase productivity and economic growth.

DOKVAST stands for sustainable and smart real estate. Not willing to over-tax the next generation with huge economic and environmental problems, we want to be part of this sustainable economic game plan. Disruptive for now, mainstream for the next generation: Farbe bekennen.
The workshop's aim is to inspire other companies; to talk about low-energy buildings and about a healthy environment
and to discuss the pros and cons, the dos and don'ts.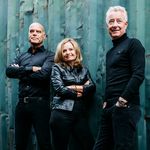 Dokvast
The founders and managing directors of DOKVAST and DOCC CONTROL Jos Klanderman, Cynthia van Dooren and Joeren van Dooren met while developing logistics real estate for the formerly family-owned business DOBOTEX which was sold to PUMA AG in 2009.

DOKVAST develops sustainable logistics real estate. Having acquired broad knowledge and experience DOKVAST has created the most sustainable buildings which have been awarded a BREEAM Outstanding Certificate for design, construction and management.

DOCC CONTROL was created in 2016 and offers a user-friendly and affordable ecosystem to make facility management smarter, cheaper and more efficient. It enables reactive, preventive, as well as predictive maintenance by means of innovative technology, such as IoT. DOCC CONTROL is an online platform based on software as a service and intelligent hardware, to register, analyze and communicate maintenance issues and data.